Let's assume in all our considerations in the following chapter that a school year has 39 weeks and any holidays or public holidays have no impact on counting the weeks.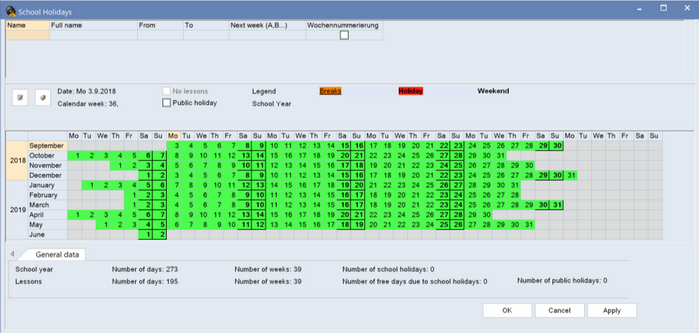 Example: school year with 39 weeks.
Let's also assume that the first half year starts on a Monday, ends on a Sunday and has 20 weeks. The second half year therefore has 19 weeks, also starts on a Monday and ends on a Sunday.
Now define a lesson group H1 which is active for the first 20 weeks of the school year.

In the calendar of the lesson group you see that the lesson group H1 is active 20 out of 39 weeks, which is a 20/39 activity or 0.5128 (rounded to 0.513). Activity is also displayed in italics and in grey in the "Factor" column of the lesson group window.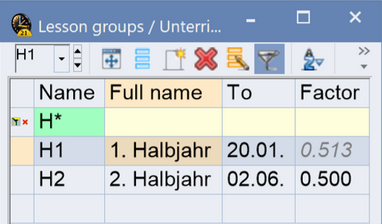 In the "Lessons" window the value 0.513 is displayed for this lesson because the following applies for this case:


Once again for better understanding: The activity in the school year is made up of the number of weeks a lesson is active divided by the number of weeks of the school year.

In the case of a one-period lesson, this activity also then corresponds to the yearly average value, which is also displayed in the "Weekly values" window under "Settings", "Lessons / values":
The yearly average is calculated as the sum total of the single entries in each week divided by the number of weeks of the school year: