In the following, there is a list of all features, the most current ones added are on top of the list (i.e. most current released date in descending order):
Periods are automatically cancelled, if the class is at an event.
Supervisions are possible (= one teacher can supervise 2 classes at a time).
New calendar entries can be created directly in substitution planning.
List of (open) substitutions is automatically up-dated, when basic data are modified.
Activities create absences

This means that, if a new activity is created for a teacher who teaches a lesson at the same time, an absence is automatically created.
It therefore is easy to see for the substitution planners that they need to search for a substitution.
If teachers are not available (=displayed in grey), the (absence) reasons are shown as tag or label, e.g.:
absent
not at school
ill
leave
e.g. "Math 1A" (when already in a lesson)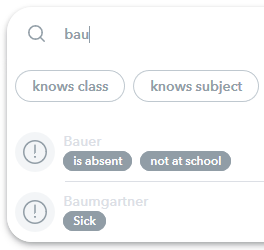 You now can filter by labels when searching for a substitution.

Just click on "Search for a teacher" and all available lables are shown.
Selected labels are shown in orange and are highlighted in the list of teachers.