The increasing use of high-resolution screens (4k or even 5k) and thus scaling via the Windows operating system makes it necessary to adjust the majority of the windows in Untis.

These adjustments have already been part of "minor releases" of Untis 2020 for quite some time.

The following example shows a "Lessons" window opened with the version 2020.1.0 and underneath opened with Untis 2020.7.0:

The "Lessons" window in 2020.0.0, not corrected with a scale of 200%

The corrected version in Untis 2020.7.0
Timetable
A few adjustments have been applied exclusively to Untis 2021. It is now possible, for instance, to zoom in and out in the timetable window in increments of 10 and not in increments of 100%, as it was up till now.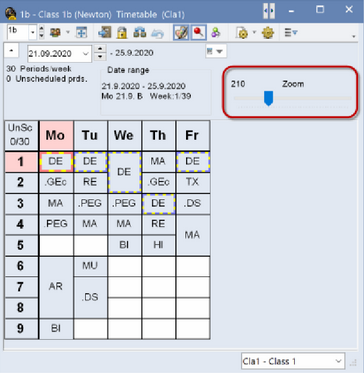 Scaling in the timetable is now possible in increments of 10.
Redesign of the holiday window
For many years, there has been the possibility to influence the numbering with the field "Next school week no.", because in some countries, full holiday weeks are not included in the school week numbering. Since it happened very often that the school week number was not entered correctly, the window has now been redesigned in such a way that for every holiday entry that is longer than a week, a check box can be ticked to select whether the holidays should be included in the school week numbering or not. Additionally, to facilitate matters, the field "Next week" was changed into a selection list.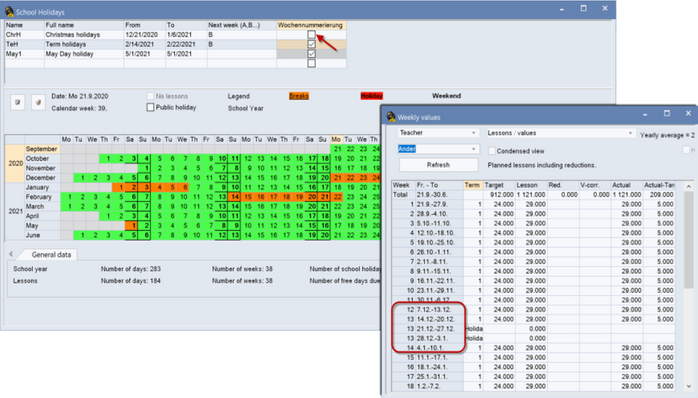 Standardisation of <Print preview>
Untis as a program celebrates its 50th anniversary this year. The current program version, which is comprised of Microsoft Visual Studio and Microsoft Foundation Classes, has been around since Untis99, i.e. more than 20 years. Since new features and methods are continuously developed which Untis developers make use of, it sometimes becomes necessary to standardise the program. Among other things, the feature <Print preview>, which is used by several reports, has been standardised in this current version. The <Print preview>, for instance, of weekly values and of the report for "free periods" now formally look the same.

The features which have been standardised are: next/previous page, onepage/doublepage display, zoom out/zoom in, print, Excel export and PDF export. Another advantage of the edited <Print preview> feature is that from now on you can use the scroll wheel of your mouse to turn pages, and you can have several windows open at the same time.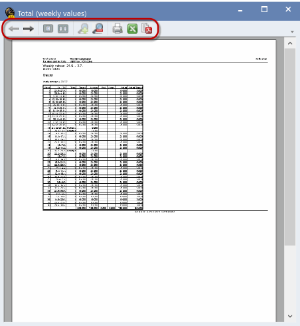 Please note that the <Print preview> of master data and "Lessons" windows are based on other technical features. Integration of these windows will be done at a later point in time in a second step.
Tool tips in field dialogue
Some field descriptions were adjusted, and additional tool tips were introduced for the <Field dialogue> when selecting fields to facilitate working with Untis, particularly for new users.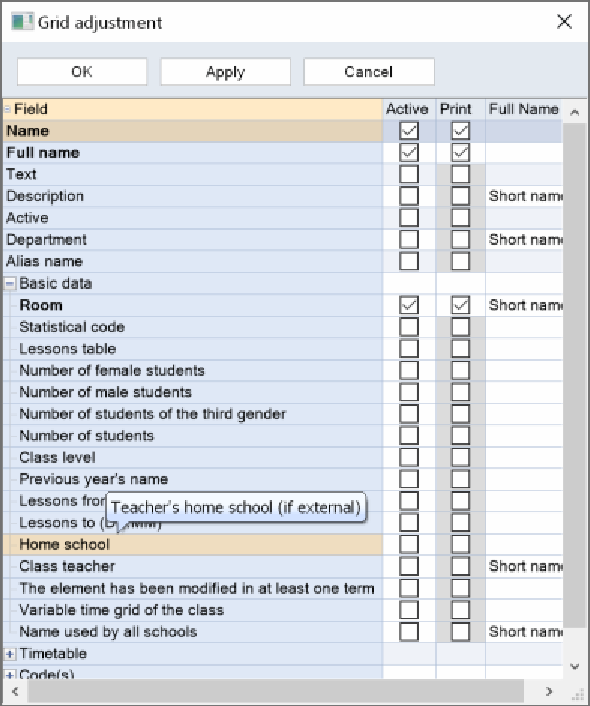 New tool tips in the field dialogue.
Modified field descriptions
We would like to specifically stress that the description of the field "Value =" in the teacher master data was changed to "Actual (Value =)". The word "Value" is still used so as not to confuse experienced users. However, this will be changed to "Actual" at some point. This makes sense insofar as the "Actual-Target" column then shows the difference between the columns "Actual" and "Target". Please note that the "Actual" column is the sum total of lesson value and the reductions.
Apply to all
At some places in the program the warning messages have been edited so that you can now choose to apply your choice to all prompts of the chosen selection.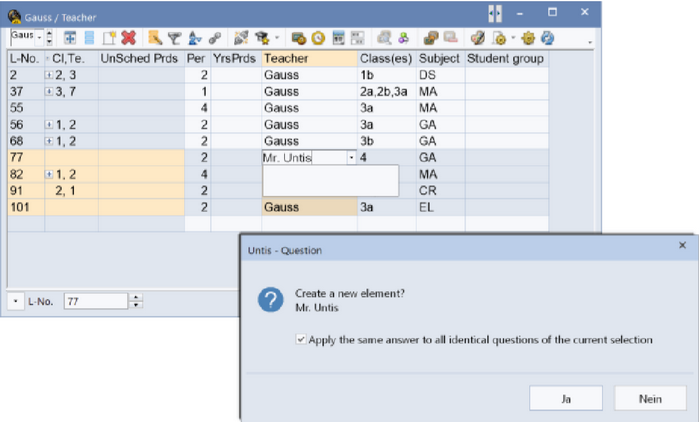 New location for saving ini files
Since more and more IT service providers offer Untis via a terminal server solution, it has become necessary to change some locations for user-related data. In the file "%LocalAppData%\Untis" data is also saved now. In detail, the directories logs, crashdumps, WebUntis and E360 and some other data used for import and export were shifted from "%AppData%\Roaming\gp-Untis" to "%AppData%\Local\Untis".
At the same time, for consistency, Untis 2021 replaces the directory "%AppData%\Untis\" with the directory "%AppData%\gp-Untis\". The directory "%AppData%\gp-Untis\" however, will not automatically be deleted due to backward compatibility.