To ensure the highest security standards and to support modern browsers we are upgrading the required TLS version to 1.2 on January 31st, 2020.
TLS stands for "Transport Layer Security" and is an important component for the encryption of the network traffic between WebUntis servers and users.
Older standards, TLS 1.0 and TLS 1.1 will no longer be supported. Also we stopped supporting older cipher suites which do no longer match current security standards.
To ensure that the update to TLS 1.2 causes no problems, please check the following settings:
Hint
The following settinigs have to be configured on all devices that use WebUntis or are used to exchange data from Untis to WebUntis.
TLS 1.2 activation
To ensure that all applications are allowed to interact with WebUntis after the TLS 1.2 update, TLS 1.2 has to be activated in the internet options of the used device.

This setting is found in System control|Internet options|Advanced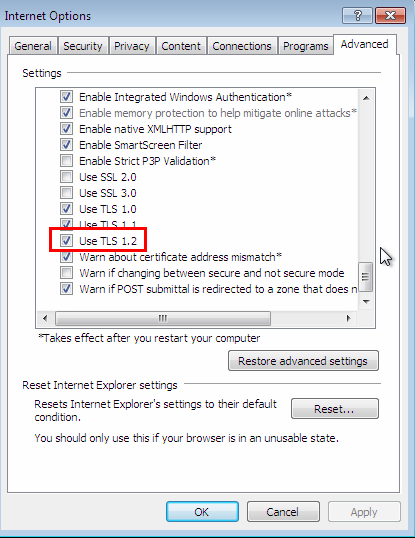 Warning
This setting is necessary even if a different browser than Internet Explorer is used for surfing in the internet, because other application, e.g. the data exchange from Untis to WebUntis, also use this setting.
Supported Windows 10 Version
Please make sure that you use an officially supported verion of Windows 10 (Version 1903 or more recent) is used on your device. You can find a list of Windows 10 versions in the following link with a statement for how long the version will be supported by Microsoft. If your Windows version is no longer supported, please update to a supported version.

https://support.microsoft.com/en-gb/help/13853/windows-lifecycle-fact-sheet
We can no longer guarantee that our products will be working on Windows 7, because Microsoft stopped the support for Windows 7 on 14.01.2020 and therefore there will be no more updates for Windows 7. Therefore we advise to upgrade Windows 7 to Windows 10.
Nevertheless, at the current state (14.1.2020) it should still be possible to use our products if you use a fully updated (with all servicepacks) Windows 7, Internet Expolerer 11 and if TLS 1.2 is acitvated.
Supported browser:
Microsoft will stopp the support of Internet Explorer 10 with 21.1.2020, so Internet Explorer 10 or any older Internet Explorer versions have to be updated to Internet Explorer 11
Safari 8 on OS X 10.10 must be updated to Safari 9
Testing the settings
You can check if TLS 1.2 is activated on your device by accessing the website https://ssl.webuntis.com/WebUntis/?school=kalliope#/basic/main in the Internet Explorer. If the website is opened in the Internet Explorer, TLS 1.2 is activated in the internet options and you use a Windows Version that supports TLS 1.2 at the moment. If this test works, the probability, that the data exchange between Untis and WebUntis will work after the change, is very high. If you cannot access the website, TLS 1.2 is not activated on your device and you have to check the above mentioned settings.
Following operating systems / browsers will no longer be able to access WebUntis:
- Android 2.3.7 bis 4.4.2 and older
- IE10 and older
- IE10 / Windows Phone 8.0 and older
- Safari 5.1.9 (OSX 10.6.8 - Snow Leopard)
- Safari 6.0.4 (OSX 10.8.4 - Mountain Lion)
- Safari on iOS 8.1 and older
- IE 11 / Win Phone 8.1 and older
- Safari 6 on iOS 6.0.1 and older
- Safari 7 on iOS 7.1 and older
- Safari 7 on OS X 10.9 and older
- Safari 8 on iOS 8.4 and older
- Safari 8 on OS X 10.10 and older
Hint
If you need information or help to implement the settings mentioned above, please contact you IT-administrator or IT-provider.