Often parent's e-mail-addresses are unknown and it is a big effort to create parent-users manually.
That's why we introduced a new feature to automatically create 2 parent-users for each student with a few clicks.
We just add _1 and _2 at the end of the student's username.
In "Administration > User > User administration" now there is the new button "create parent users":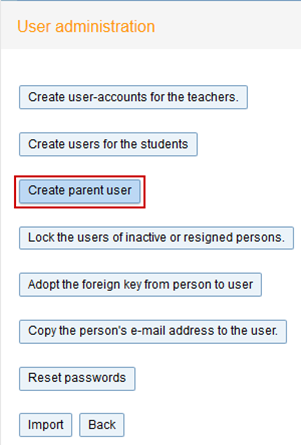 You can choose to do this for students from all classes or select a specific class.
The existing options to generate passwords are available.
The following remake is displayed: "if one or more parent users already exist for a given student, no additional parent user will be created."
After completed creation you see a confirmation that also refers to the report in "My messages" (English translation of this remark will follow soon):

The internal message contains a CSV file including the parent's names (if they exist in the student's master data), the usernames (shortnameStudent_1, shortnameStudent_2), the passwords and possibly differences from name pattern (e.g. if shortnameStudent_1 already exists):

Remark:
This function doesn't know, if a parent user should be assigned to more than one student.
In this case the parents would have to login with different usernames for each student.
You can print the login information with the new feature described here:
Administration: it is now possible to print initial passwords for students, teachers and parents on cards