Here the latest added features are listed on top (meaning sorted descending by release date):
activities create absences

That means, when a new activity is created for a teacher, who already has a lesson at the same time, then an absence is created automatically.
Then the substitution planner can easily notice, that a substitution is needed for the affected lesson.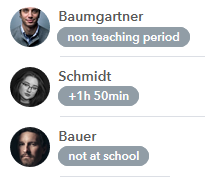 If teachers are not available (=displayed in grey), the (absence) reasons are displayed by tags/labels e.g.:

Is abscent
Not at school
Sick
Vacation
e.g. "Math 1A" (if already in lesson)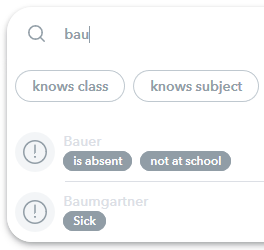 When searching for a substition now it is possible to filter by labels.

Clicking "Search for a teacher" shows all available labels.
Selected labels are displayed in orange and highlighted in list of teachers.