To solve an open substitution click the "solve" button (on the right of each lessons row):
In the "solution view" you see date range of selected teachers absence and number of affected hours.
Next are all hours of selected date. You can select further hours and view later hours (9-16) with arrow to the right.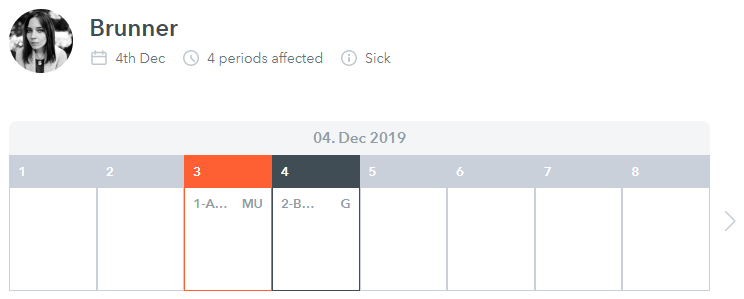 Next you see all solutions for selected (orange) hour above.
"search for a teacher" gives you unlimited possibilites, in case none of the three (by algorithm) suggested teachers (below searchbar) fit for you as substitution.
also see: Criteria for suggested substitutions
Clicking on searchbar first shows only available teachers.
If you start typing, you can also find teachers who are not available (in grey) and the (absence) reasons are displayed by tags/labels e.g.:
Is abscent
Not at school
Sick
Vacation
e.g. "Math 1A" (if already in lesson)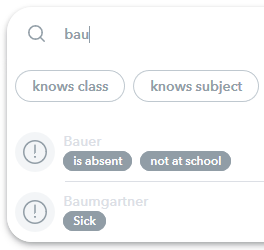 All teachers have lables like "knows class", knows subject" to help you finding a fitting substitution.
Those lables are also used Criteria for suggested substitutions.
Clicking "Search for a teacher" shows all available labels.
Selected labels are displayed in orange and highlighted in list of teachers.

At last there are two options "no substitution" and "cancel period".
More to that here: Available solutions for substitutions
In future there will be more possible solutions in WebUntis which you already know from Untis.
Your selected solution (orange) is also displayed up there for each hour.
Then you can select next lesson to find another solution.
"Save" in the lower right saves all solutions, but they don't get published yet.
See: How can I publish or edit solved substitutions?
With "cancel" below or "X" in the upper right you can discard all selected solutions.