Often used timetable formats such as 'Large timetable' or timetable summaries can be found in the selection list of the classes, teachers, rooms and subjects buttons.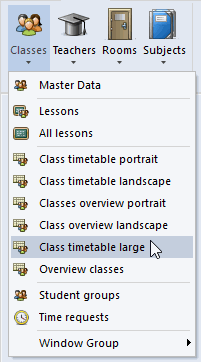 There is a large number of timetable formats. Take a little time to browse through them in order to gain an overview and then decide which format you like best.
Timetable layout / timetable information
You can adjust the size of each timetable as required. To do this, draw the separator lines between the heading rows or columns apart or together. This will alter the width or height of all rows or columns.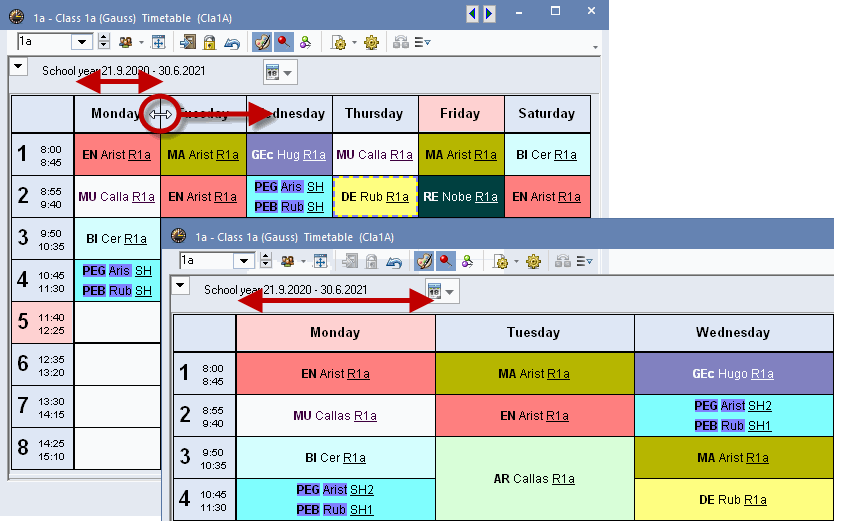 It is just as easy to display all relevant information such as teachers, classes, rooms and subjects in the timetable with just one click. To do this, click in the timetable with the right-mouse key and select 'Per. window: Standard format'.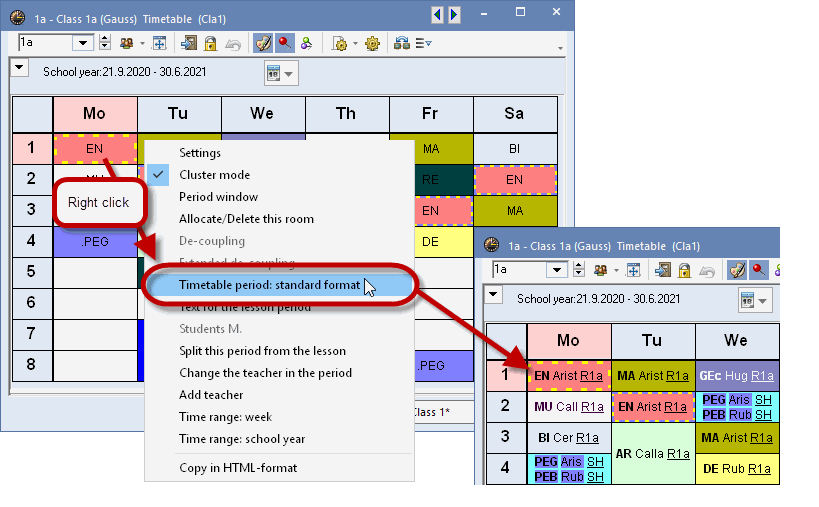 Tip: Timetable formats
It is advisable to have two timetable formats for each master data element. These come predefined by default. For example keep 'Timetable | Classes' as a small format timetable for working on the timetable. You can then add all information to 'Timetable | Large class timetable' for output.
Modifying information in the timetable
You can change any of the contents displayed in the timetable. Only make changes when you do not like the options in the Standard period or when different content is required.
To do this, click on <Timetable settings>

in the timetable window and then on the button <Period window>. A graphic editor will open depicting the contents of the individual timetable cell.
Note: Per. window: standard format
If you open this dialogue for a timetable output in standard format , uncheck the option 'Per. window: Standard format'. You can then perform the steps described here.
All available fields are listed on the left. If necessary, just drag and drop any field into the right segment. Whenever you drag and drop a field in the lesson period, so-called SnapLines are shown assisting you with aligning it.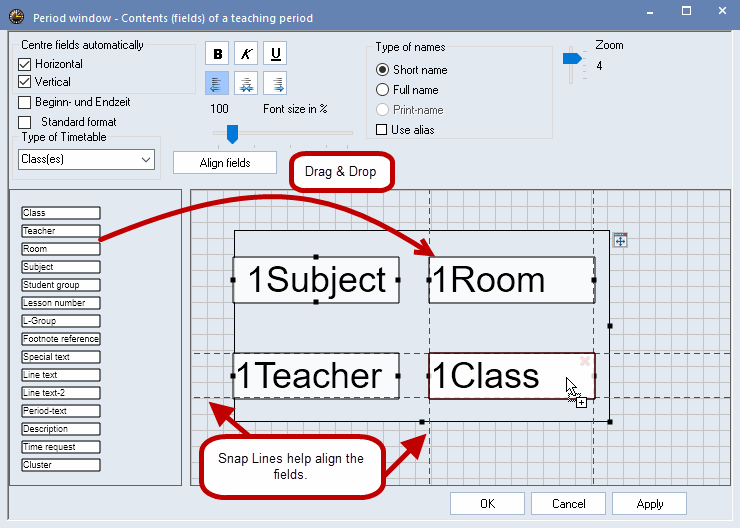 You can even change the font size of each field. Please note that the background field symbolises the timetable cell. Confirm with <OK> once the timetable cell looks the way you want it to. <OK>.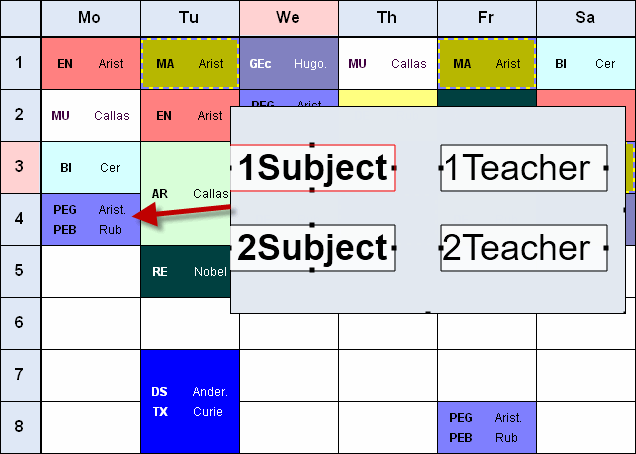 Tip: Displaying coupling cells
When more than one teacher is involved in a lesson, you can add the field 'Teacher' several times. For example, if 3 teachers participate in a lesson, you need at least 3 teacher fields in the graphic editor in order to display all teachers involved.