Periods highlighted green (green cells occupied by a period) can be swapped with other periods highlighted green. Periods marked with a blue arrow indicate that a circular change is possible. This is indicated visually in the timetable with arrows. Dropping the original period on it causes a window to open in which you can specify whether a (circular) swap should take place or a clash generated.
At the same time all timetables affected by this swap are shown by tabs. Now you can easily check the consequences of this swap for all classes and teachers (in our example among others Gauss), before you confirm with<Ok>.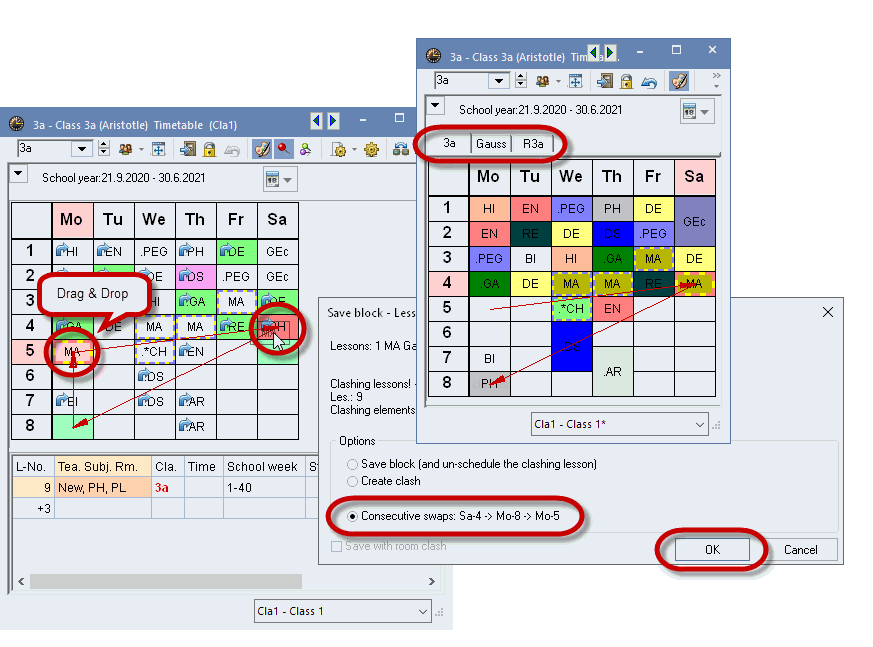 Fields shaded purple indicate that it is possible to move (or swap) a period without causing a clash but also that neither the desired room nor the alternative room is free.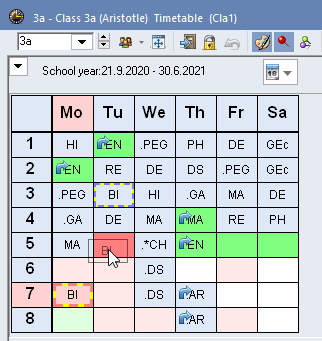 Scheduling the "dragged" period in a non-highlighted cell is not possible without creating a clash. The lesson details window displays the lesson number and details of the lesson in conflict with the moved period.
Dropping the lesson onto such a period causes a window to open in which you can select whether the original lesson that was in that position should be unscheduled or whether a clash should be generated when you schedule the 'dragged' (active) period.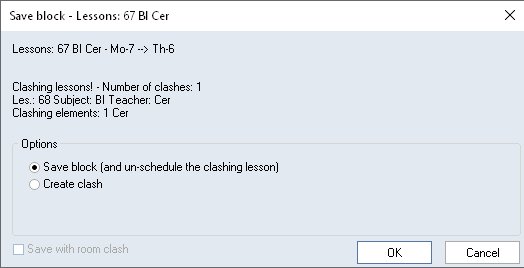 Swap suggestions
If you click on the <Swap suggestions> button in the class timetable window, Untis will display several possibilities to swap periods. This will take into account that a swap can only be made for a class if a swap is performed for another class at the same time. The 'Gain' column will indicate if a swap operation brings about an improvement or degradation in terms of the settings you made (weighting, specifications in master data / lessons). A tab in the timetable displays all class and teacher timetables affected by the active swap suggestion.
If two classes are to be swapped, the lower section of the suggestion window will display various swap possibilities for the second class. Depending on the swap possibilities the total gain or loss for the timetable will also be indicated here.