When scheduling the lunch break you have the option of specifying fixed times for the lunch break or of performing flexible lunch break scheduling.
Fixed lunch break
A fixed lunch break - for the entire school - can arise from the time grid.
A particular period (e.g. period 7) can be excluded from lesson scheduling using a block (time request -3). With this you can set a fixed lunch break for classes on an individual basis. Furthermore, the period is made available as a unit in the timetable (e.g. for scheduling it as an office hour, etc.).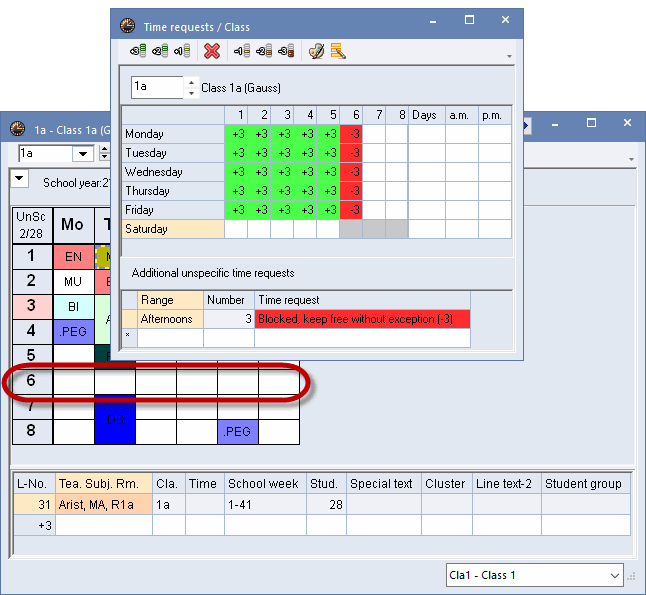 Flexible lunch break
Any lunch break is automatically placed in the last period of the morning and/or the first period of the afternoon. You can influence the position of the lunch break on the 'Breaks' tab under 'Time grid' by selecting the first and last periods that can serve as lunch break. The length of the break between morning and afternoon lessons is specified at a later point in time (e.g. 1-2 periods depending on the class).
The example shows that the fifth period is the first that can be used as lunch break and the seventh period is the last. The lunch break must always lie on the boundaries or across the boundaries between morning and afternoon. The white fields indicate those breaks lying between the last period of the morning and the first period of the afternoon.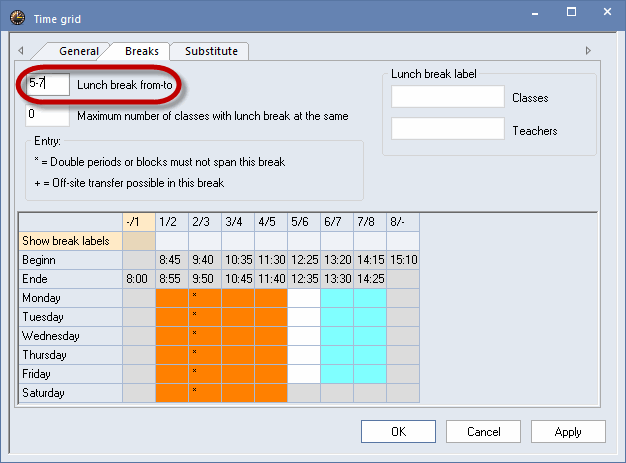 The length of the lunch break - i.e. whether it should or may last one, two or three periods - is specified in the class master data window in the 'Lnch Brk' column. This is also entered as a range. For example, '1-2' means that the lunch break may last for one or for two periods. An entry of '1-3' means that the lunch break should last for at least one period and for three at most.