Teachers also need a unique short name and, optionally, a full name. This is usually the teacher's last name but can also contain the first and last name.
There a large number of fields that you can enter for teachers. You should start with the NTPs (nonteaching periods), the desired number of periods per day and time requests.
Non-teaching periods (NTPs)
Specify the number (range) of non-teaching periods allowed for a teacher per week in the "NTP" column. An entry of 0-1 means that the teacher may have no, or only one, non-teaching period per week. An entry of 1-3 would mean that the teacher should have at least one and a maximum of three NTPs per week.
Tipp: Serial changes
You can change more than one row in a column with just one entry. For example, you wish to change the minimum and maximum number of NTPs for several teachers:
Select the teachers for whom you wish to make an entry by selecting them while holding the left mouse key pressed.
Enter the desired value and confirm with <Enter> or <TAB>.
All selected fields now show the entered value.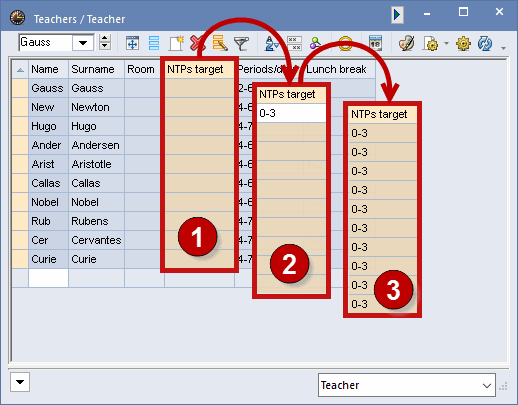 Periods per day
Enter the minimum and maximum number of teaching periods per day for each teacher in the field "Periods/day". An entry of 3-7 would mean that the teacher should teach at least 3 but no more than 7 periods per day.
Time requests for teachers
In most cases, teacher's' time requests are of particular importance. Untis therefore permits lessons to be scheduled in a way that takes individual teachers' wishes and needs into consideration.
First select a specific teacher by clicking in the corresponding row of the grid view under 'Master data | Teachers' and then click on the <Time requests> button. The time request window will now be displayed for input.
Specific time requests
Use the upper section of the time requests window to enter time requests for specific days and periods.
In the example teacher Gauss would 'rather like to' teach on Tuesdays, 2nd – 5th periods, whereas he would 'rather not' teach in the first period each day. Thursday is teacher Gauss' day off.
Unspecified time requests
It is also possible to enter unspecific time requests in the lower section of the window. You can accept a teacher's request for a day off on any day of the week by selecting 'Days' in the column 'Time range', '1' in the column 'Number' and 'Unconditional blocking' in the column 'Time request' You can also formulate time requests for half days (mornings or afternoons) in the same way.
Teacher "Rub" in the example should be granted a day off during the week as well as two free afternoons if possible.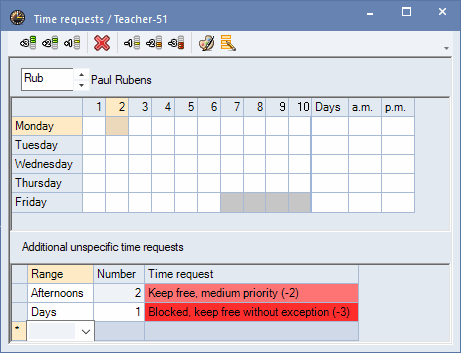 Warning:
Unspecified time requests apply in addition to specific time requests, i.e. they are cumulative. For example, if Monday is blocked and there is an unspecified request for a day off, a total of two days are to be kept free.
Tip: Unspecified time requests
You should use unspecified time requests whenever possible. If a teacher needs a day off, for example, Untis will then determine the day (or half-day) to be kept free based on the specifics of the timetable. This avoids placing unnecessary restrictions on optimisation and allows timetables to be better calculated.