Master data refers to all school-specific resources in Untis which are essential for the creation of the timetable. These include Rooms, Classes, Teachers and Subjects. Via to the 'Start' tab you can access differrent windows to define master data (e.g. 'Classes | Master data').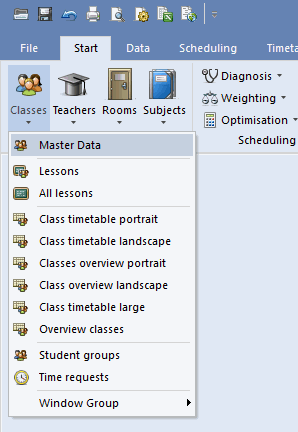 The following examples are based on file demo.gpn.
Creating new master data elements
You can create a new element in the master data window (e.g. a new class) by clicking in the last row, which is marked with a * (asterisk), and entering a name and a full name.
Tip: Full name
Specifying a full name is optional but is advisable. Teacher short names in particular (generally consisting of three to five letters) might not be instantly recognisable. Short names can be used for e.g. the timetable and long names for printed reports.
Rearranging master data elements
If you wish to rearrange a master data element click on the first (blue) column of the class that you wish to rearrange and hold the mouse key pressed.. Now drag the element to the desired position in the list.
Deleting master data elements
You can delete a master data element by clicking on the <Delete> button.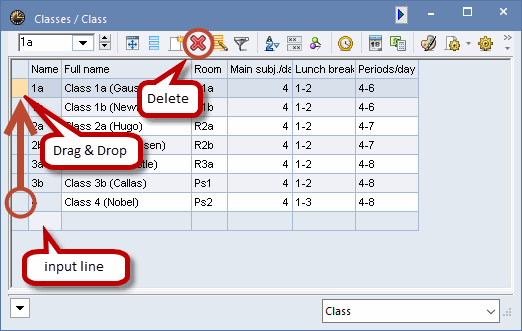 Displaying/hiding columns
A great deal of additional information may be stored for each master data element. You can view this information by clicking on the arrow at the bottom left of the master data window. If you now wish to display for example the field 'Max. main subjects/day' in the upper section of the window (grid view), use drag & drop to place it there.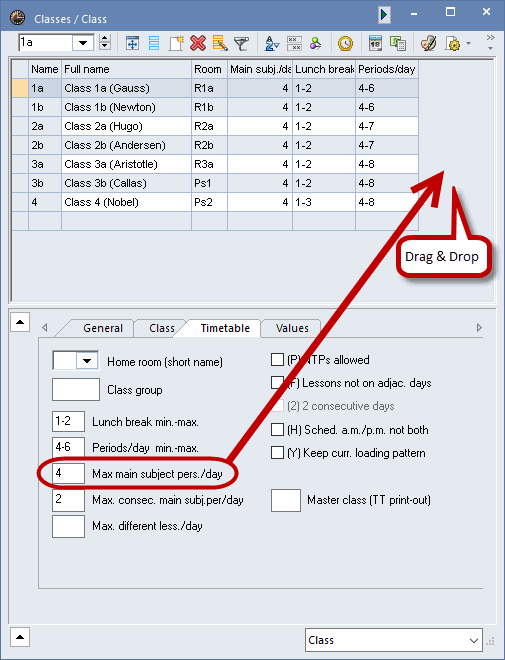 If you wish to hide a column, hold the <CTRL> button pressed and drag it from the grid view at the top to the lower section (form view).
Rooms
The Getting Started Rooms can be found here.
Classes
The Getting Started Classes can be found here.
Teachers
The Getting Started Teachers can be found here.
Subjects
The Getting Started Subjects can be found here.
Views
The Getting Started Views can be found here.
Sorting
The Getting Started Sorting can be found here.
Comments
The Getting Started Comments can be found here.
Printing master data
The Getting Started Printing master data can be found here.